Sean Quinn

Seán Quinn is the founder of My Ireland Family Heritage.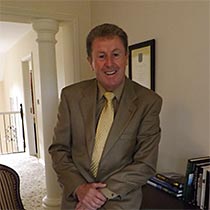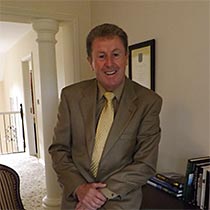 Seán has spent all his working life in Tourism and is a past Student of the College of Catering graduating with a Degree in Hotel Management City and Guilds in Dublin City. He has worked in all Facets of the Tourism industry until retiring in 2001 as Terminal Services Manager Dublin Airport to commence his new business at My Ireland Family Heritage with his daughter Aisling.
Seán interest in Genealogy commenced 30 years ago and once qualified he decided to combine and pursue both passions of Tourism and Genealogy. " I felt there was a real need to make sure clients saw the real Ireland and Genealogy certainly achieves this as most family Townland experiences are off the beaten path bringing the Real Ireland to life".
As a member of the Historic Society, a fully qualified Genealogist and Failte Ireland Tour guide Seán believes it is imperative that each client from the moment they fill out a preliminary Form, journey through the research process and finally reach the exact spot in Ireland where their families house once was is on a very important journey to connect with their past.
Our mission is to make sure you get the full historic back ground to the history of Ireland. For that reason everything at My Ireland is in House and each member of our team are government qualified in Genealogy and Touring to enable us to prioritize your wishes.