About Us
We are a Irish family business who's lifetime passion for Genealogy began over 20 years ago. My Ireland Heritage only use National Government Approved Tour Guides and Qualified Professional Genealogists to conduct our research.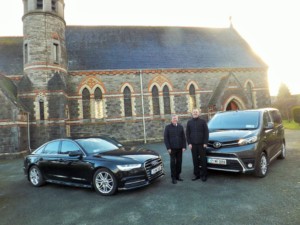 With a love of Genealogy and his country Ireland, Seán and his family set about establishing my Ireland Family Heritage focusing on the need in the market to help an individual to embark on an exploration that is entirely unique to you as an individual.
To find that you are Irish is special, to travel right to the Heart of your Townland to see the actual scenery of a Neolithic Site, stone circles, rivers and Mountains that your fore fathers have left behind is indeed one of the greatest connections an Irish person can make. My Ireland Heritage team believes there is a special place in Ireland which belongs to you, it may be a castle, a village or a long lost relative. We cannot only solve questions to your past but also provide a potential life changing first class holiday.
We at My Ireland Family Heritage would love to have you experience the Real Ireland, whilst working in the Tourism business for over 30 years Seán has listened to the tourists he has met. Many had wished they had been given the chance to see the Ireland that others do not see and had the opportunity to go off the beaten track. My Ireland Family Heritage now gives you the chance to experience this and walk in your Ancestors Footsteps and learn the history that is unique to you.
My Ireland Heritage team believes that even if you have only the smallest information on your Family Roots they can unearth some exciting links to your families Homeland as My Ireland Heritage believe in taking to time to chat with the locals and historians on your behalf.
My Ireland Family Heritage is a family owned business based in County Meath started 9 years ago by Sean Quinn as a hobby born from a true passion for his own personal family genealogy quest. Sean understands the impact of understanding your genealogy and the passion to find where your ancestors came from and this led him to start helping others fulfil their dreams of as we like to say 'Walk in the Footsteps of your Ancestors'. We are a genealogy and tour business that takes you back to the exact location your ancestors lived, worked and worshipped prior to their emigration in hope of a better life for future generations. What each of our clients have in common is a love and yearning to 'come home' and as a team we are passionate about fulfilling this.

We have featured in Rick Steves Tour Guide book consecutively each year since 2015, we have been featured in the NewYork Times and American Way Magazine (American Airlines Inflight magazine). We have been recently ranked 6th by USA Today, readers choice for best genealogy tour company worldwide. We have also recently won the Best Boyne Valley Experience 2019 and the Best Meath Tourism Business of the Year 2019.

My Ireland Family Heritage is owned by Sean Quinn and his daughter Aisling Darragh. We are unique in that we are a family business and a one stop shop for your genealogy research and tours. Sean Quinn is responsible for leading our research team, Aisling Darragh is responsible for managing our office team, Ian Darragh is responsible for leading our reconnaissance team and Pauline Quinn is a talented local artist who gifts a painting of each townland to each of our clients.

We hope to see you visit Ireland one day and allow us the honor of helping you in your quest to 'Walk in the Footsteps of your Ancestors'