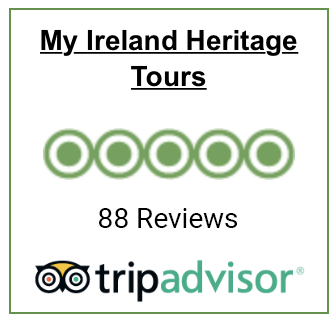 Kildare Genealogy Tours
Rich in heritage and history, Kildare Town dates from the 5th Century, when it was the site of the original 'Church of the Oak' and monastery founded by Saint Brigid. This became one of the three most important Christian foundations in Celtic Ireland. It was said that Brigid's mother was a Christian and that Brigid was reared in her father's family that is with the children of his lawful wife. From her mother, Brigid learned dairying and the care of the cattle, and these were her occupations after she made a vow to live a life of holy chastity.
Both Saint Mel of Ardagh and Bishop Mac Caille have been credited with the consecration of Brigid after which the woman established a community beneath an oak tree, on a hill on the edge of the Curragh. Hence the name Cill Dara, the church of the oak.
Kildare was shired in 1297 and assumed its present borders in 1832, following amendments to remove a number of enclaves.
The county was the home of the powerful Fitzgerald family. Parts of the county were also part of the Pale area around Dublin
Family Dynasties 1500-1600 AD
•          Irish – O'Connor, Kelly
•          Norman- Eustace,Fitzgerald,De Clare,De Vessey,talbot
•          Scottish -None
•          Viking – None
County Kildare – Things to do and may be possible to include within your Ancestral Townland Experience Tour
·      Irelands Ancient East
·      Irish National Stud & Gardens
·      Newbridge Silverware Visitor Center
·      Kildare Village
·      Castletown House
·      St. Patrick's College (Maynooth)
·      Saint Brigid's Cathedral and Round Tower (Kildare)
·      Mondello Park International Motor Racing Circuit
·      Donadea Forest Park
·      The Curragh Racecourse
·      Maynooth Castle