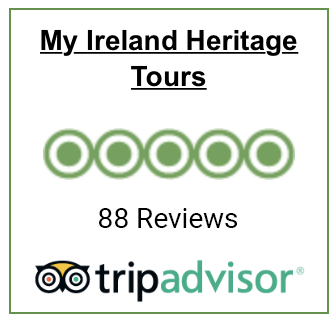 Louth Genealogy Tours
County Louth is in the province of Leinster and is part of the Border Region. The population of the county is 122,897 according to the most recent census. Louth is the smallest county in Ireland Cork being the largest the county is steeped in myth, legend and history, and is a setting in the Táin Bó Cúailnge. Later it saw the influence of the Vikings as seen in the name of Carlingford Lough. They also established a longphort at Annagassan in the ninth century. At this time Louth consisted of three sub-kingdoms each subject to separate over-kingdoms: Ulaidh, Airgialla, and, the Midhe. The whole area became part of the O'Carroll Kingdom of Airgialla (Oriel) early in the 12th century.
The Normans occupied the Louth area in the 1180s, and it became known as 'English' Oriel, to distinguish it from the remainder ('Irish' Oriel) which remained in Irish hands. The latter became the McMahon lordship of Oriel of Monaghan. The town of Drogheda being fortified by the Norman family De Lacy. (see our Historical County Meath Tour)
In the early 14th century, the Scottish army of Robert & Edward Bruce was repulsed from Drogheda. Edward was finally defeated, losing his claim to the High Kingship of Ireland along with his life, in the Battle of Faughart near Dundalk. Coincidently when the De Bruce campaign laid pillage to Kildare the area synonymize with St Bridget it was a known fact that Faugherd was St Bridgets Birth place.
Family Dynasties 1500-1600 AD
•          Irish – O'Carroll,McMahon
•          Norman- Birmingham, Taffe, De Lacey
•          Scottish -None
•          Viking – None
County Louth – Things to do and may be possible to include within your Ancestral Townland Experience Tour
•          Monasterboice
•          Rushmoor Country Park
•          Irelands Ancient East
•          St James Church
•          Lincolnshire Wolds
•          The Cattle Raid of Cooley or The Táin walk via the Cooley Mountains
•          Louth Museum
•          Hill of Slane 432 ad St Patrick