Time Travelers using a Family Tree as a Road Map
New York Times Saturday July 30th 2016
Mrs Sheila Albert 78 from Santa Rosa California and her niece Terry Pew found themselves standing in the ruins of an old house in Ireland where Mrs Alberts Great, Great Grandmother once lived.

I felt like I came home she said. Mrs Albert's ancestors emigrated during the Great Famine 1845-50.

"If it was not for Seán and the Team at My Ireland Family Heritage we would never have found the house "Sheila said. The Genealogy Company also arranged an Historic Tour off County Meath where they got to see a Famine Workhouse and Graveyard, the history was wonderful and included a visit to Newgrange A Neolithic site which is 5,200 years old.

It can never be underestimated the damage done to Irish records between The Custom House Fire and the Civil War but finding your original Family home in the period 1820 -1901 is our specialty.

None of the Census after 1851 are available they were all lost until you reach 1901/1911. Anything before 1851 is very partial indeed and the problem is the Census will not give you a location for the property. It may give a number which means absolutely nothing. The main problem with the Census is it may give a Townland which can be 2700 acres and as anyone who has been to Ireland will tell you Townlands are not marked in Ireland so finding the House is nearly impossible "but that is where we can step in on your Behalf " said Seán Quinn.

Seán went on to say "We will guarantee that we will find where that House once was its our specialty, we cannot guarantee it's still there all though in many cases it may be but we are accurate to within 10 yards. We will not only find the spot where the house is we will substantiate each project with facts and that is our sincerest guarantee to you.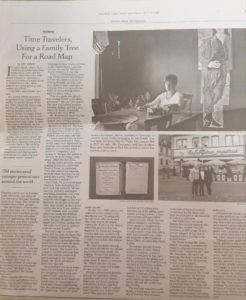 My Ireland family Heritage has a 95% success rate of finding an Original House and Townland that your family used to live in, by using our extensive database
My Ireland Heritage is dedicated to assisting clients in the Irish genealogy research for their Irish Family History of Past generations. You can feel safe in the knowledge that we take each project as a personal journey. We are proud of the fact that we are My Ireland Family Heritage are able to encompass your research and tour together and work with you throughout the process to customize your tour with you and for you. We can research your family, identifying the exact home in many cases as far back as the early 1800s in any County in Ireland. Having completed the research for you, My Ireland Heritage team will also be present throughout the Tour setting us apart from other Companies that we here at My Ireland Heritage  do it all. We offer a variety of competitive research packages and exclusively designed Irish Genealogy tours to cater for your budget and requirements. Our Professionally qualified Irish genealogy research team have developed a reputation for problem solving.
We will not only provide you with Valuable documents often not found online (see Unique Moments and Documents), but also create a tailor made plan to search for your Irish ancestors exclusively with you.
Whilst no reputable genealogist can make any guarantee regarding the number of ancestors they can find, the My Ireland Heritage research team has developed a reputation for problem solving with a 95% success rate to finding your Ancestor, ancestral Townland and most importantly the Original Family House . In many cases this has led to many of our clients meeting with lost relatives (see Testimonials)
Prior to your visit our exploration team visits the sites that may lead us to clues relating to your family's history, relentlessly searching for information to achieve a positive result for you. Wherever in Ireland you feel your spiritual home is, we will visit these sites in advance of your tour working with local historians that may lead us to clues of your roots.