---

Roscommon Genealogy Tours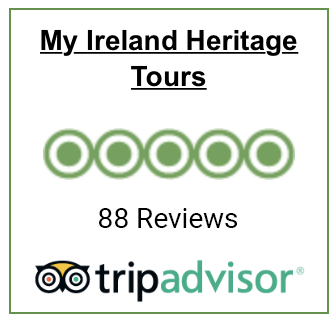 Roscommon Genealogy Tours
County Roscommon is part of the province of Connacht. Its county town and largest town is Roscommon. The population of the county is 64,065 according to the 2011 census.
It is the third largest of Connacht's five counties by size and fourth largest in terms of population. The county borders every other Connacht county – Galway, Mayo, Sligo and Leitrim statistically, Roscommon has the longest life expectancy of any county on the island of Ireland. No other County in Ireland can show the ravages of the great famine better than Roscommon. Around every corner is an old House Ruin or a defensive Hill settlement 2000 years old know as a Rath and one of the finest examples is Rathcroghan.
County Roscommon is named after the county town of Roscommon. Roscommon comes from the Irish Ros meaning a wooded, gentle height and Comán, the first abbot and bishop of Roscommon who founded the first monastery there in 550 AD.
Family Dynasties 1500-1600 AD
•          Irish – McDermott, MacRannell, O'Connor, McGovern
•          Norman- None
•          Scottish -None
•          Viking – None
County Roscommon- Things to do and may be possible to include within your Ancestral Townland Experience Tour
·      Arigna Mining Experience
·      Rathcroghan
·      Irelands Ancient East
·      Lough Key Forest Park (Boyle)
·      Boyle Abbey (Boyle)
·      Strokestown Park National Irish Famine Museum (Strokestown)
·      Roscommon Castle (Roscommon)
·      Roscommon County Museum (Roscommon)
·      Roscommon Friary
·      Cloontykilla Castle (Boyle)
·      Drumanone Portal Tomb (Boyle)
·      Gaelic Chieftain Sculpture (Boyle)