Our Tours

---

Historical Derry City

One Day Tours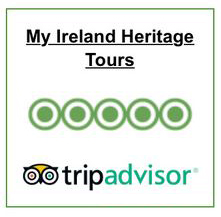 Historical Derry City
We design our Tours exclusively with you in mind. We go to the Places other Tour operators cannot take you and will also include any stops you wish to make designed with you and for you. If your Family history is in this area we will design the Tour to suit your requirements.
---
Walls of Derry
A walk around the walls in Derry Londonderry (1613 – 1618) reveals a splendid city crammed full of history, heritage, interest and a vibrant cultural scene. This is the only remaining completely walled city in Ireland and one of the finest examples of Walled Cities in Europe. The four original gates to the Walled City are Bishop's Gate, Ferryquay Gate, Butcher Gate and Shipquay Gate. Three further gates were added – magazine Gate, Castle Gate and New Gate.The city claims Europe's largest collection of cannon whose origins are known precisely.
---
Ulster American Folk Park
Immerse yourself in the story of Irish emigration at the museum that brings it to life. Experience the adventure that takes you from the thatched cottages of Ulster, on board a full scale emigrant sailing ship, to the log cabins of the American Frontier. Meet an array of costumed characters on your way with traditional crafts to show, tales to tell and food to share.The indoor exhibition at the Ulster American Folk Park examines life in Ulster in the 18th and 19th centuries. It reveals the reasons behind the exodus and shows how the settlers adapted to and impacted on, a new and unfamiliar environment.
---
Saint Columba's Cathedral
Saint Columba's Cathedral, 1633 AD was the first Cathedral built after the Reformation. It is the city's most historic building containing displays of artefacts from the Siege and contains one of the best collections of Genealogy records in Ireland.
---
The Guildhall
The Guildhall is a beautiful building and is well worth taking time to see. It is located in the heart of the city, just outside the city walls and close to the Peace Bridge. Fashioned in neo-gothic style, the Guildhall is one of the most striking buildings in the North West and was originally built in 1887 by The Honourable the Irish Society. The red sandstone building is of neo-gothic architecture, with Tudor overtones. The Guildhall contains stunning examples of stained glass windows and visitors will be intrigued by its unique history and appeal. The staircase, main hall organ and corridors give a fascinating insight into this distinctive building.
The Port of Londonderry
One of three Major emigration Ports in Ireland especially during the Famine as well as Dublin and Queenstown Cork (Cobh).
---
The Famine Memorial
Lough Foyle Departure area.