Our Tours

---

Medieval Kilkenny City

One Day Tours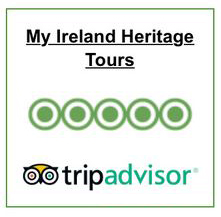 The Historical Medieval Town of Kilkenny
We design our Tours exclusively with you in mind. We go to the Places other Tour operators cannot take you and will also include any stops you wish to make designed with you and for you. If your Family history is in this area we will design the Tour to suit your requirements.
---
Kilkenny Castle
KILKENNY CASTLE stands dramatically on a strategic height that commands a crossing on the River Nore and dominates the Kilkenny City. Over the eight centuries of its existence, many additions and alterations have been made to the fabric of the building, making Kilkenny Castle today a complex structure of various architectural styles.
The original Anglo-Norman stone castle was built for William Marshal, 4th Earl of Pembroke (c.1146-1219) during the first decade of the thirteenth century. Kilkenny Castle later became the principal Irish residence of the powerful Butler family for almost 600 years. The Butler ownership began when James (c.1360-1405), 3rd Earl of Ormond, purchased the castle in c.1391, and lasted until 1967 when Arthur, 6th Marquess of Ormonde (1893-1971), presented it to the people of Kilkenny in return for a token payment of £50.
---
Kilkenny Cathedral
St Canice's Cathedral and Round Tower are an essential part of the structural heritage in the medieval city of Kilkenny. This ecclesiastical site was founded in the 6th century and named after St Canice.
Walking Tour which will include some of the Following.
•   Black Friary – Dominicans settled in Kilkenny (their third Irish foundation) in 1225.
•   Rothe House is a unique Irish 17th century merchant's townhouse built by John Rothe Fitz-Piers between 1594–1610 three enclosed courtyards, and a large reconstructed garden with orchard
•   St Mary's Cathedral a towering 186-feet cut-limestone structure was built between 1843 and 1857 by William Deane Butler
•   The Smithwick's Brewery – With over 300 years of brewing experience,. Go back in time to the 1300s, walk with the monks of St. Francis Abbey and discover how the beer was first born.
•   Kyteler's Inn – First established by Dame Alice de Kyteler in the 13th century, Kyteler's Inn is one of Ireland's oldest inns. Alice was accused of witchcraft in what's understood to be Europe's first witchcraft trial and was sentenced to be burned.
•   Kilkenny Design – Built in 1790, this unique complex of stone buildings in a courtyard setting was once the stables/coach houses of the Castle –