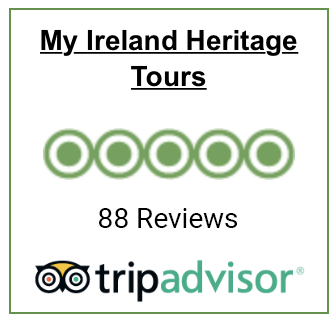 Wicklow Genealogy Tours
County Wicklow the second last of the traditional 32 counties to be formed, as late as 1606, it is part of the Mid-East Region and is also located in the province of Leinster. It is named after the town of Wicklow, which derives from the Old Norse name Víkingaló, which means "Vikings' Meadow" and the population of the county is 142,332.
Traditionally known as the Garden of Ireland, the Wicklow Mountains, Dublin Mountains and Black Stairs make up the longest chain of Mountains in Ireland. Famously the last Wolf was shot at Mount Leinster in 1786.
County Wicklow was the last of the traditional counties of Ireland to be shirred in 1606 from land previously part of counties Dublin and Carlow. Often under the Power of the O'Byrnes clan. The Military Road, stretching from Rathfarnham to Aghavannagh crosses the mountains, north to south, was built by the British Army to assist them in defeating the rebels still active in the Wicklow Mountains following the failed 1798 rebellion. The ancient monastery of Glendalough is located in County Wicklow along with the wonderful Powers court domain. (see our Wicklow Way Tour)
Family Dynasties 1500-1600 AD
•          Irish – O'Byrne, O'Toole, Redmond, Kavanagh
•          Norman- Fitzgerald, Butler
•          Scottish -None
•          Viking – None
County Wicklow- Things to do and may be possible to include within your Ancestral Townland Experience Tour
·      Powerscourt Gardens and House (Enniskerry)
·      Wicklow Mountains National Park (Glendalough Village)
·      Part of Ireland Ancient East
·      The Wicklow Way
·      The Bray to Greystones Cliff Walk (Bray)
·      Glendalough Monastery
·      Powerscourt Waterfall (Enniskerry)
·      Wicklow Gaol (Many were held here prior to transportation to Australia)
·      Military Road (Enniskerry)
·      Blessington Lakes (Wicklow)