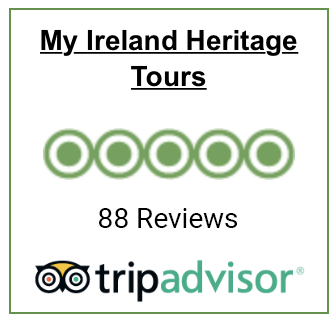 Dublin Genealogy Tours
Positioned on Dublin's Wine Tavern Street the oldest street in Dublin and site of the Original Viking settlement 841 AD the iconic Christchurch Cathedral.
There has been a church on this site since the coming of the Normans 12th Century. Handles Messiah was first performed here and it holds in its Crypt the Body of Richard De Clare (Strongbow) first Norman to arrive in Ireland 1169 AD. The name Dublin comes from the Gaelic word Dubhlinn, meaning black pool where two rivers meet the Liffey and the Poddle the water becomes Black. Old Norse name for Dublin was Dyflin, those without knowledge of Irish omitted the dot, spelling the name as Dublin.
It is now thought that the Viking settlement 841AD was preceded by a Christian ecclesiastical settlement known as Duibhlinn, from which Dyflin took its name. Beginning in the 9th and 10th century, there were two settlements where the modern city stands. The Viking settlement known as Dyflin and a Gaelic settlement, Áth Cliath ("ford of hurdles") was further up river, at the present day Father Mathew Bridge at the bottom of Church Street. Áth Cliath is a place name referring to a fording point of the River Liffey near Father Mathew Bridge. The Castle of King John was built in Dublin in 1206 and some walls still remain. (see Dublin City Tour)
Family Dynasties 1500-1600 AD
•          Irish – None
•          Norman- Barnwell,Birmingham, De Lacey, Power, White
•          Scottish -None
•          Viking – Harold
Dublin- Things to do and may be possible to include within your Ancestral Townland Experience Tour
·      Irelands Ancient East
·      The Georgian Dublin experience 1717 -1830 and the relevance of this area to the Famine 1845-1850
·      Customs House 1791
·      Leinster House 1745 (Government Buildings)
·      Duke of Wellington memorial
·      Kilmainham Jail 1796
·      Phoenix Park; location of Houses of the American Ambassador and the President of Ireland
·      Guinness Brewery
·      Book of Kells
·      Jeanie Johnston Famine ship replica 1845-1850
·      Famine Memorial departing Area
·      Tenement Living Post Famine period
·      St Patrick Cathedral
·      Christ Church & Dublin Castle
Georgian Dublin
Once the second city of the British Empire Georgian Dublin built between 1717 and 1830 for King George the 1st, 2nd, 3rd & 4th became the worst slums of Europe after the Great Famine of 1845-51.
Visit the Famine ship Jeannie Johnson or see how life was lived in the Tenements during the 1800s.