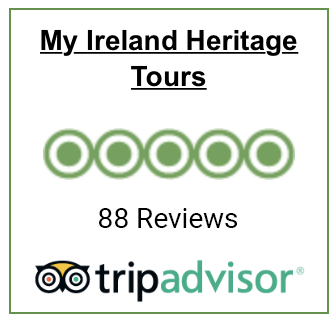 Kilkenny Genealogy Tours
Kilkenny is on the banks of the River Nore in the province of Leinster. Kilkenny is a popular tourist destination. In 2009 the City of Kilkenny celebrated its 400th year since the granting of city status in 1609. Kilkenny's heritage is evident in the town including the historic buildings such as Kilkenny Castle, St. Canice's Cathedral and round tower.
The city is administered by a Borough Council and a Mayor. The borough's population is 8,711, but the majority live outside the borough boundary: the 2011 Irish Census gives the total population of the Borough and Environs as 24,423.
Following Norman invasion of Ireland, Kilkenny Castle and a series of walls were built to protect the burghers of what became a Norman merchant town. William Marshall, gave Kilkenny a charter as a town in 1207. By the late thirteenth century Kilkenny was under Norman-Irish control. The Statutes of Kilkenny passed in 1366, aimed to curb the decline of the Hiberno-Norman Lordship of Ireland. In 1609 King James I of England granted Kilkenny a Royal Charter giving it the status of a city. Following the Rebellion of 1641, the Irish Catholic Confederation, was based in Kilkenny and lasted until the Cromwellian conquest of Ireland in 1649. (see our Medieval Kilkenny City Tour)
Family Dynasties 1500-1600 AD
•          Irish – Kearney,McCarthy
•          Norman- Butler, Eustace, Rochford,Raggett,walsh
•          Scottish -None
•          Viking – None
County Kilkenny – Things to do and may be possible to include within your Ancestral Townland Experience Tour
·      Ireland Ancient East
·      Kilkenny Castle
·      Smithwick's Experience Kilkenny
·      St. Canice's Cathedral & Round Tower
·      Black Abbey
·      Jerpoint Abbey (Thomastown)
·      Woodstock House and Gardens
·      St Marys Catedral
·      Kilfane Waterfall and Glen (Thomastown)
·      Shee Alms House
·      Capuchin Friary