Special Moment the finding of Monsignor Strain from Boston- Home in 1820 in County Down
70th Birthday trip to find my grandparents roots.
One month before I began this journey I discovered My Ireland Heritage Tours online. What a life saver. My trip went from a bust to better than I could have imagined. From the beginning Aisling and Sean "got it".
I was passionate to find my namesake grandmother Catherine Mary homeland in Roscommon with very little to go on. I also had much more background information for my grandfather in County Down. Sean and Aisling helped sort out a viable trip, and did all the research to make it work, within my budget and abilities.
After extensive research and reconnaissance Sean took me on a day long trip to County Down. I saw my great grandfather's birthplace, my 2 X great grandparents wedding church. But it turned out that that 2 X great grandmother was the sister of Monsignor Patrick Strain, the first Monsignor in New England and the builder of a huge Gothic Church St. Mary's of Lynn, Mass., where I went to high school! Sean found their birth home, and we were able to visit, and even snatch a piece of roof tile!
This is a lifelong memory that I will cherish always.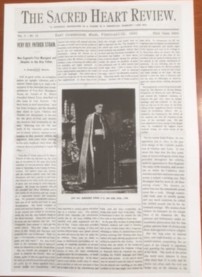 Comments
My Ireland family Heritage Team were over joyed with the results of this research and to actually find the family Townland in 1820 but better again to find that one member of Family still remained on the Land in the period 1845 50 and the actual house was still there was tremendous for Miss Bartok especial as Monsignor Strain had became so Famous.