Whether you have Irish descent or you're a travel enthusiast, you must visit Ireland at least once in your life. A complete tour of the country will surely leave you spellbound and intrigued to explore more simultaneously. Needless to say, witnessing the Irish culture in its true glory is an experience worth living.
If you're visiting Ireland for the first time, we highly recommend that you use the services of a reliable touring company. If you plan your own itinerary, you may miss out on some hidden gems of the country and not have a complete and fulfilling experience. But what exactly should you look for in your Irish touring company? Keep reading to find out.
1. Qualified Tour Guides
The most important thing to look for in your touring company is the expertise of the tour guides they provide. Ideally, you should choose a company with experienced tour guides who can accompany you to all the places in your itinerary. You can also look for their qualifications to see if they're certified tour guides.
Additionally, your tour guides should meet you in your hotel lobby every day and accompany you to your destination. This way, you won't get lost, and you'll learn all about every single place you visit.
2. Comprehensive Itinerary
If you're interested in making the most of your time and visiting as many places as you can, your touring company should provide you with a comprehensive itinerary. This way, even if you're short on time, you can cover all the major spots and see all the best tourist destinations near you.
3. Genealogy Research Services
If you have an Irish descent, you should choose a touring company that also provides Irish ancestry research. Their experts can locate your original Irish homestead and townland and even plan a trip to all the best genealogy sites in Ireland. This way, you can learn all about your ancestors and experience their lives in person.
4. Emphasis on Authentic Experience
A good touring company will make a comprehensive itinerary for you, but a great touring company will ensure that your itinerary also has spots that give you the authentic Irish experience. This means they'll add places to your plan that aren't typically touristy but are quintessentially Irish.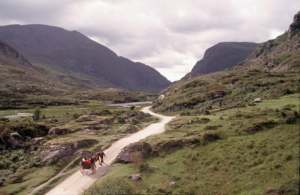 5. Budget-Friendly Packages
Finally, your touring company should not quote a high price for its services. Instead, it should give you a list of budget-friendly packages that you can choose from. This way, you can stick to your budget and know exactly what you'll get out of the company.
Looking for a Reliable Touring Company? Choose My Ireland Family Heritage
Whether you want to trace your Irish roots or plan a fun trip to Ireland, you can reach out to our team at My Ireland Family Heritage. We have certified and experienced tour guides who can plan an itinerary of all the relevant and best genealogy sites in Ireland so you can have an authentic Irish experience.
Contact us now to book an Irish ancestry and genealogy tour with us today.